Come relax in the tranquility of our beautiful spa. After being greeted by our friendly reception, you will be escorted up into our spacious and luxurious lounge area. You can then relax in front of our cozy fireplace with a cup of Aveda Herbal tea, and enjoy the peacefulness of being in the Rocky Mountains. Our services use natural Aveda products that will soothe your skin and melt your stresses away!Rapunzel's offers both solo and duo Massages.Our oversized rooms are perfect for couples, besties, mothers and daughters – or any combination of two people that would like to enjoy a service together!
All therapists are certified and are Registered Massage Therapists.
You may request a receipt for Extended Health Insurance.
As all insurance companies have different policies, Rapunzel's Salon and Spa will not be held responsible for denied claims.
If you have a preference for a male or female therapist, please let us know at the time of booking
---
---
Rapunzel's Massage Experience
Our Registered Massage Therapists provide personalized services using essential oils from our selection of AVEDA aromatherapy blends. Swedish massage techniques are performed to ease away stress & relieve muscle tension. Concentrated massage techniques such as trigger point and myofacial release are designed to relieve muscle tension and promote healing.
30 minute Aromatherapy Massage: $75.00
45 minute: $95.00
60 minute: $120.00
90 minute: $160.00
---
---
Pre-Natal Massage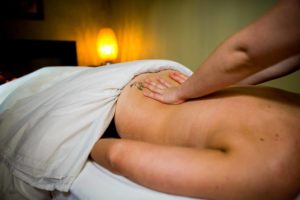 A great way to relax while during pregnancy, after all you deserve it! Our massage therapists are specially trained in Pre-Natal Massage and will custom your service to suit your needs. Using our custom pregnancy pillow and table set up, we will have you feeling relaxed and pampered in no time!
60 minute Pre-Natal Massage: $120.00
90 minute treatment: $160.00
---
---
Hot Stone Massage
This treatment is luxurious & tranquil. Experience the velvet texture of oiled stones as the soothing heat penetrates deeply to relieve all tensions. The comfort & warmth of nourishing oils will melt away daily stresses.
60 minute Hot Stone Massage: $140
90 minute treatment: $175
---
---
Body & Sole
You will revel in this perfect combination of reflexology and full body massage to encourage a higher state of well being.
60 minute Full Body Massage and 30 minute Reflexology: $165
---
---
Reflexology
The technique of applying pressure to specific points on the feet stimulates the body's own healing powers that will boost your health and reduce stress.
45 minute Reflexology Treatment: $95
30 minute Relexology Add-on to another treatment: $70
---
---